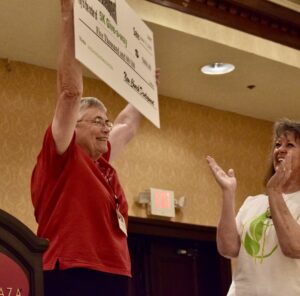 As our churches transition from the pandemic and a season of upheaval over disaffiliating churches, the laity who remain will need to be even more engaged in serving their churches and helping pastors lead congregations forward. We hope that you'll recognize this moment in time as your opportunity to step into who God needs you to be in service to your community and the world.
This year's program will be a little different in that half of the meetings will be conducted via ZOOM and half will be held in-person in El Paso. The rationale is that it will allow for convenience that online meetings afford and create an environment where face-to-face bonding and support can occur.
Training Pre-Requisites: Membership for 2 years in same local UMC church, Completion of application with all required documents (see sidebar) and $50 fee with application, $50 per training session (submitted to Conference Office prior to training weekend) or $350 total. Participants must attend ALL sessions to receive session certificate, NO makeup sessions.
To remain certified, CLM's must take an advanced Lay Servant training course every 3 years and submit an annual report to their local charge conference.
CLM Registration Form due to Kathy Jewell by Feb. 17, 2023
Dates for Classes:
Module 1a-March 3-4, in-person
Module 1b-April 14-15, ZOOM
Module 2a-June 2-3, in-person
Module 2b-July 14-15, ZOOM
Module 3-Aug 25-26, in-person
Module 4-Oct. 6-7, ZOOM
Module 5-Nov. 17-18, in-person
Contact
Kathy Jewell
Conference CLM Director
email
Documentation Required for Application:
Letter of Recommendation from Pastor (see application for details)
Letter of Recommendation from home church Staff/Parish Relations Committee (SPRC)
CLM Annual Report to Charge Conference requesting to begin CLM Training OR written approval of Church Council reflected in the minutes of the meeting.
Written one page Statement of "Call" to be a CLM, how God is moving in your life
Certificate of Completion for Basic Lay Servant Course
Certificate of Completion for Advanced Lay Servant Course
$50 Application Fee
Current Background Check, through home church
Current Safe Sanctuary Basic Completion Certificate