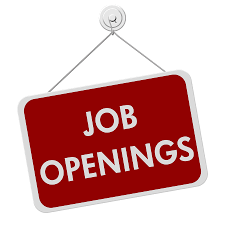 ---
Position Title: McCurdy Ministries -Director of Development and Church Relations

Job Description: Secure financial and volunteer support for our faith-based, mission-driven organization. Set and achieve fundraising goals through the solicitation of donations, assisting with fundraisers, and preparation and timely submission of relevant grant applications. Maintain knowledge of and relationships with the McCurdy Ministries Community Center Board of Trustees as well as church-related agencies in the country, the South Central Jurisdiction, and the New Mexico Annual Conference, as well as our grantors and fundraisers, fellow employees, former students, staff, and volunteers. General duties include being active in researching and writing grants, being a partner in fundraising events, undertaking relation-building trips, and maintaining a social media presence while representing God's love and communicating the difference McCurdy Ministries makes in the Española Valley.
To apply send an application letter, a one-page writing sample, a social media sample and a resume with three references to eromero@mccurdy.org by June 1, 2023.
---
Position Title: Part-Time Accountant/Bookeeper at Christ UMC-ABQ
Job Description: Perform routine bookkeeping tasks such as: recording deposits, preparing checks, preparing twice monthly payroll, providing monthly and annual account reconciliation, and reporting to various church committees as required.  The selected candidate will work with the church staff, pastor, and members to monitor the church's finances.
Contact: Please contact the church office at 505-255-1669 or email christchurchabq@mycumc.org.
---
Position Title: Part-Time Pianist at Christ UMC-ABQ
Job Description: Part time accompanist/pianist to provide piano accompaniment for all church worship functions as required. Provides piano music for church services, accompanies the Chancel Choir, and meets regularly with Music Director to plan and rehearse.
Contact: Please contact the church office at 505-255-1669 or email christchurchabq@mycumc.org.
---
Position Title: University Chaplain & Director of Spiritual Life
Location: McMurry University
Job Description
The Chaplain works to develop appropriate opportunities for spiritual growth and community development for the entire campus community and reports directly to the McMurry University President. More info: Click Link
---
Position Title: Full-Time Church Administrator
Location: St. Paul's UMC-Las Cruces
Please send a resume to mark@stpaulslascruces.com
---
Position Title: Part-Time Bookkeeper
Location: Morningstar UMC-Las Cruces
 Contact Rev. Amy Wilson-Feltz: amy@mstarlc.church
---
Position Title: Accompanist-part time
Work closely with Music Directors and Rev. Mull to provide music during practices and Worship Services.
Necessary: familiarity with the various genre of religious music.
Piano and keyboard skills (Baby Grand and Clavinova)
This is a part-time position which will be available April 10th.
To inquire about this position and receive necessary application forms, please call Rio Rancho United Methodist Church (505-892-04040) or send email inquiry to rioranchoumc@gmail.com.
---
Position Title: Director of Music Ministries
Salary: $22,000(20 hrs/week)
Qualifications: A working knowledge of sacred music, particularly church hymns; familiarity with various genres of sacred and secular music; and a passion to serve Jesus Christ and His Church.
Job Requirements: This person will recruit for, train, direct, and support our chancel, children, and bell choirs; share music with the children in our childcare program; encourage and empower people to participate in music ministries; with the pastor, plan and coordinate music for weekly worship and special services; and build relationships with, and bridges between, persons outside the church and Asbury UMC.
 Letters of Interest shall be accompanied by a resume and at least 2 references, and be sent to Rev. Joe Whitley, revjoe@asburyabq.org.
---
Position Title: Director of Children, Youth & Families
Location: University UMC-Las Cruces
Salary: Dependent upon experience and qualifications - $15/hour minimum.  30 hours/week. 
Purpose: Responsible for leading, coordinating, and supporting the various ministries with and to children, youth, and families in accordance with UUMC's stated mission to make disciples of Jesus Christ for the transformation of the world.
Qualifications: Will be able to conceptualize, articulate, and carry out his/her work as ministry education, fellowship, mission, and outreach for transforming the world. They will support the overall ministry of UUMC by living a life that reflects the highest level of moral integrity, by faithfully attending UUMC worship services, by seeking continued growth both spiritually and professionally, by protecting the reputation and integrity of others through strict confidentiality, and by serving as a key team player, helping guide the church to fulfill its overall mission.
Job Requirements: Minimum age of 23 to comply with UUMC Safe Sanctuaries Policy. Experience in a wide range of ministries in the local church, particularly with respect to children, youth, and family ministries. Familiarity with the structure, policies, teaching, and mission of The United Methodist Church.
For Questions or Information: Call 575.522.8220 or email. To Apply for this position submit: A letter of interest, Your Resume, A list of 3 references with contact information
Mail or hand deliver to:
University United Methodist Church Office 2000 S. Locust St.
Las Cruces, NM 88001
EMAIL to: office@uumc-lc.org
Online go to: http://uumc-lc.org/job-opportunities/
Review of applications will begin immediately and will continue until the position is filled.
---
Position Title: Director of Children, Youth & Family Ministries (part-time)
Location: Mountainside UMC-Cedar Crest, NM
Salary: Dependent on qualifications
The Director of Children, Youth, and Family Ministries will guide the faith development of children and youth through graduation by partnering with them, their families, and other church members to coordinate activities and experiences that are age appropriate using scripture, Christian spiritual practices, prayer, community building, fun, and teaching in the tradition of The United Methodist Church. The Director is responsible for designing and facilitating a children and youth ministry program focused on building young disciples for Christ.  Please send resume's to email.