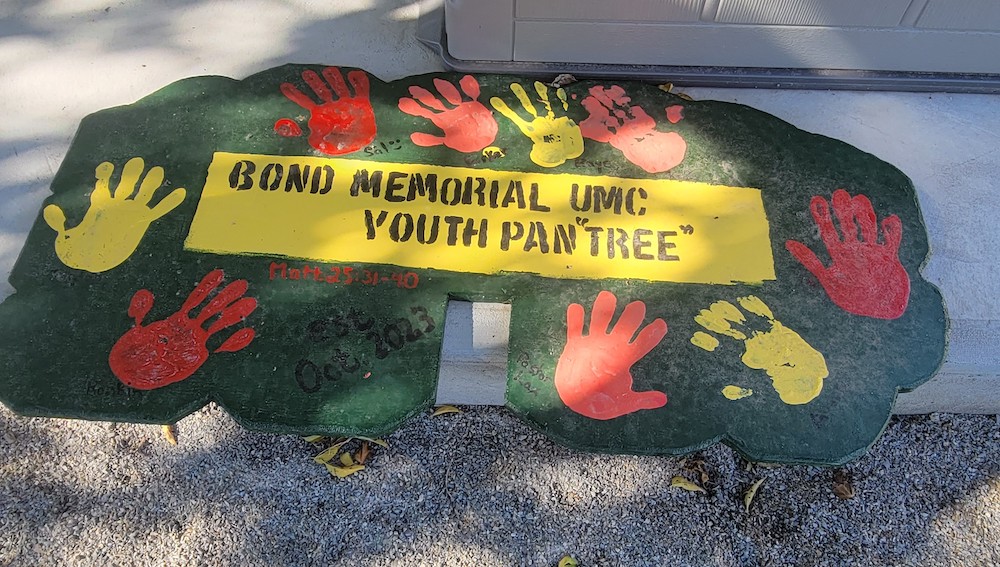 Pastor of Bond Memorial UMC, Jacqui Lax provided this article about her congregation's unique take on a familiar ministry, a youth organized Pan"tree". She noted that Bond Memorial was one of the congregations that went through the entire disaffiliation discernment process this past year and ultimately decided to remain UMC. While her congregation has faced challenges involving people leaving the church, they are experiencing a revitalization with more people stepping into leadership roles and more outreach to our community.
By Pastor Jacqui Lax
The Bond Memorial UMC Pan"tree" project started with a discussion at our youth group about ways we could show God's love to our community in the Spring of 2023. The kids wanted a way to help people in need in our community anytime day or night that didn't require them to come into the church and ask for help. We then identified funding from a grant from the United Methodist New Mexico Annual Conference that was given to our church specifically for community outreach. I assigned the kids tasks such as looking for possible building structures and stocking ideas.
In late August, 2023, at Youth Group we discussed that we had the funding needed and scheduled to work on putting it together during Fall Intercession. The concrete foundation was laid the first week of intercession and the next week, the young people assembled the building and the shelving, painted the sign and started stocking the shelves. We held a dedication ceremony after our morning worship service on October 22nd.
The Pan"tree" is open to anyone in our community in need. Our theme comes from Matthew 25:31-40 about helping those in need. Our sign states" Take what you need. If you have extra to spare, share." We have non-perishable food items, basic hygiene items household items related to keeping healthy such as dish and laundry soap. We are also looking to add blankets and sweaters to the Pan"tree" as the weather is getting colder.
The Pan"tree" is located at 201 McKinney St In Clint, Texas. It is open 24 hours a day, 7 days a week for donations or those in need.