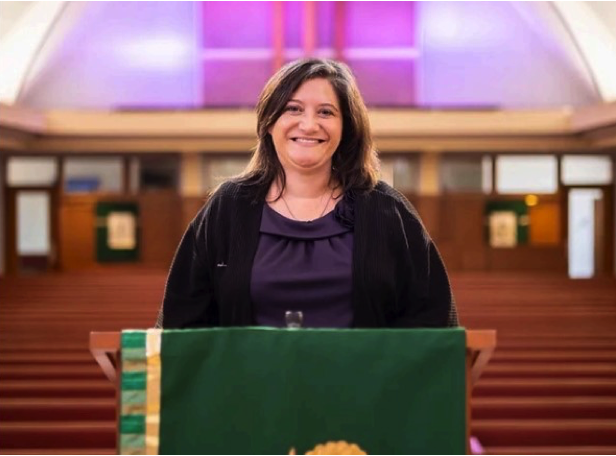 Rev. Tiffany Hollums is an ordained United Methodist Deacon in the New Mexico Annual Conference. She has always had a special calling in her heart to children, youth, and communities in need, which is why she chose to seek ordination as a deacon.
Tiffany grew up in Lovington, New Mexico, and sensed the call to ministry as a teenager. She first learned of McCurdy Ministries as a young girl when she would eavesdrop on her mother's United Methodist Women's circle when they would meet at her home! Tiffany states, "Being able to serve at McCurdy Ministries and in the Española community is honestly a dream come true!"
Tiffany and her husband, D.G., have been married for 25 years. D.G. is also ordained United Methodist Elder and is serving as the pastor at Zia United Methodist Church in Santa Fe, NM. Tiffany and D.G. have a daughter, Gracie, who they adopted at birth. Gracie is now in middle school and shares their heart for ministry and says she "sometimes enjoys being a 'PPK' – a pastor's pastor kid"! The Hollums family loves to spend time together – laughing, serving, and loving the community. They also have been a foster family for a few precious kids.
Tiffany is a life-long United Methodist, has served in United Methodist churches and ministries across the United States, and has made dear friends along the journey. As an ordained deacon, Tiffany is called to serve in the church and in the world. She has served in many different communities and in a wide variety of ministries such as serving as the Executive Director of the Ida Spence United Methodist mission which was located in an urban government housing project area in Covington, KY, to serving as a case manager to foster children in a Christian foster care agency.
In addition, Tiffany has served in many different United Methodist congregations over the past 20 plus years as a youth minister, children's minister, associate pastor, and most recently as the associate pastor at St. John's United Methodist Church in Albuquerque. Tiffany has written articles and curriculum featured on United Methodist websites and social media.
The heart of ministry for Tiffany is to love the community in which she serves. She has a particular passion and calling to those many in the world might overlook such as children, youth, families, and communities in need. She truly believes that everyone is a beloved child of God, and that God is actively at work all around us!
We are excited to welcome this beloved Sister in Christ to serve in leadership of McCurdy Ministries Community Center!